Freedom not fear - stop the surveillance state
First of all, I have to say the credit for the initial idea for this image goes to lovely Miek who we met in Utrecht. During a sunny afternoon in Lepelenburg Park several groups came together for a demonstration and open discussion event about "Freedom not Fear: Stop the Surveillance State". Miek was there with Vrijbit, a Dutch civil rights society campaigning for privacy: protection the fundamental right for private life, personal data and prevention of total surveillance.
Miek came to talk to me right at the end of the event:
"We had so many ideas when we heard a cartoonist was coming! We wanted you to draw caricatures of Dutch politicians, laminated them and put them in vats of soapy water. Then we would have blown giant bubbles with the pictures in them, let them float to the sky and shot them down with a bow and arrow!"
Apart from imagining the mayhem bow and arrows could cause in a public space, I didn't know what to say apart from "That's an amazing metaphor!" and so I started to see this image work perfectly for the concepts and issues it was talking about: the spin politicians put on sharing data and total surveillance, the monopoly that Google has, the way in which social media service providers have appalling terms of use for the user. 
Private data seems very topical right now – after getting back to Cardiff from the caravan I heard of a cryptoparty helping people to know how to encrypt email or browse and chat safely online.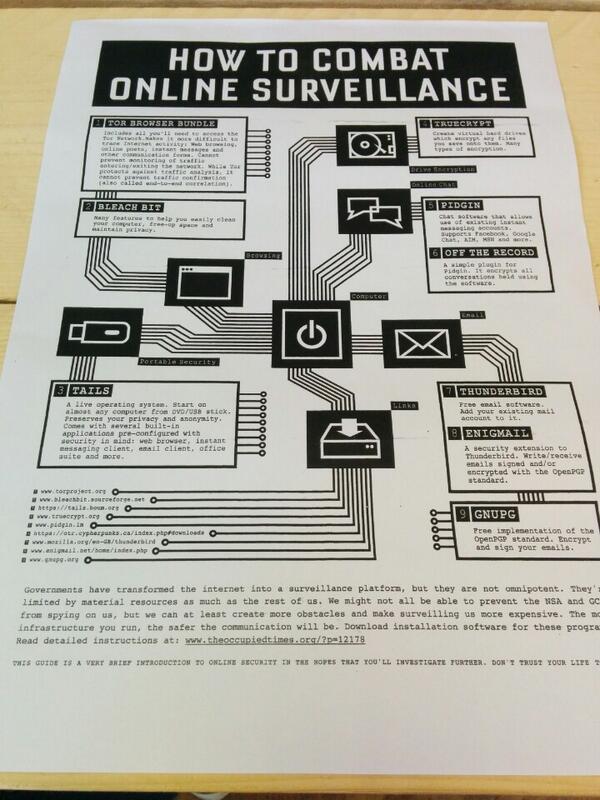 Organised by the local Open Rights Group they offered a drop-in session for people to come in and chat and had these flyers listing different tools to use for data protection. You can also  view this list of tools and tips on the Occupied Times website. 
Also, on Tuesday the media reported on a landmark court case which rules that if requested, Google "must purge its servers of harmful or unwanted personal content, even if it is legally published elsewhere". In fact this "right to be forgotten" has existed in EU law for quite some time but companies have simply not been ordered to do anything about it. This ruling gives a chance for private censorship but also opens a potential can of worms: should Google have the power to decide what is for the public good and potentially restrict publishers and freedom of speech? I will not go on any further about it – read the FT article as a start, do your own research and form your own opinion. What do you think? Share, tweet, blog - it would be interesting to see where this conversation goes. Use the #citizenspact hashtag and respond to our caravan team directly at @TEC_NWest.